Welcome to the Tremaen Pottery website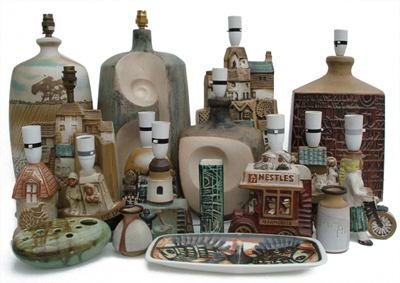 The aim of the site is to provide a resource for collectors of Tremaen and anyone else interested in ceramics. It will also feature some of the wide range of ceramics produced at Tremaen over 23 years. It will assist in the identification of Tremaen pieces and will be a conduit for the collecting and sharing of information about the pottery.
Lamp bases from my own collection form the core of the images that can be accessed by clicking on the link above. These have been supplemented with other examples provided by friends and family. The lamp bases range from the early pebble inspired naturalistic forms to the sculptural and later more quirky figural types. These elaborate and evocative lamp bases are much admired and are now highly sought after by collectors.
Tremaen was not a studio pottery, producing thrown pots following a centuries old tradition. It was unconventional and created distinctive and individual pottery in both form and decoration.
To further my research into the pottery, please get in touch if you have any information, photographs or related ephemera. I would particularly like to contact anyone who worked at the pottery or who had close associations with it.